Significantly reduced shipping prices at Scooterlife.eu!
Dear Visitors and Customers,
From 10th of November 2014 we have significantly reduced our shipping prices to the majority of the EU countries.
We hope that all these will suit better for our honoured customers.
All the shipping rates are calculated up to a 10 kg parcel.
Let us see the rates:
Slovakia, Slovenia, Austria, Czech Republic, Romania, Croatia: € 13.90 instead of € 15.90.
Poland, Germany, Belgium, Luxembourg, Bulgaria, Netherlands : € 14.90 instead of € 16.90.
Denmark, France, Italy, United Kingdom, Ireland: € 23.90 instead of € 26.90.
All the other prices are unchanged.
We still do our best for our customers in the U.S., the shipping rate is € 38.95.
We wish for all of our customers good shopping and happy days for the upcoming holiday season.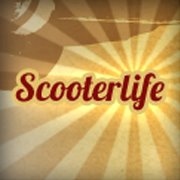 Powerbike Motorosbolt /
+36 1 3569 683/ info@powerbike.hu
2-Rad kft. Office: +36 1 3569 683 / Fax: +36 1 3569 683
1126 Budapest, Kiss János altábornagy u. 46
www.powerbike.hu
www.scooterlife.eu
www.facebook.com/Powerbike